Buy or Lease the

New Lexus RX 350

in Greater Chicago, IL
Shop New 2023 Lexus RX 350 SUVs in Arlington Heights, Illinois
At Lexus of Arlington, the 2023 Lexus RX 350 has been receiving a great deal of attention. With seating for up to seven, a rich features package, and a refined sense of style, the newest RX 350 offers a luxury driving package that stands tall alongside the market's most coveted options. It doesn't matter if you're looking for something that feels great on the road or great in the passenger's seat, the Lexus RX 350 is built to satisfy. And when you work with the team at Lexus of Arlington? You'll find all the info you'll need to confirm it's the right SUV for you.
Come see why so many the Chicagoland luxury SUV shoppers end up choosing the new Lexus RX 350. Our dealership in Arlington Heights, IL stocks a great selection of new 2023 RX 350 models, and our sales team are excited to show you all the new RX 350 has to offer.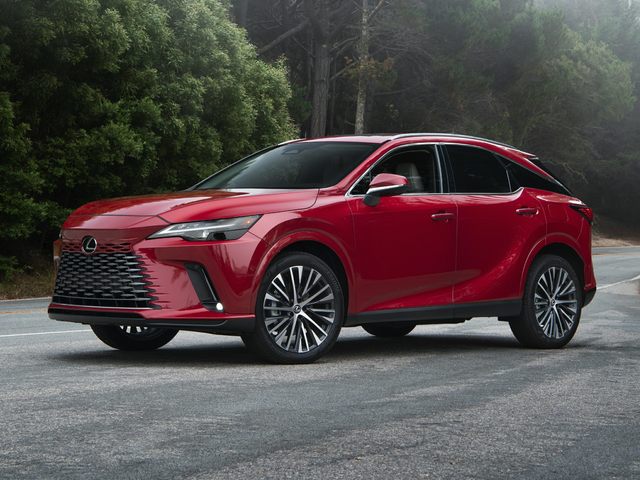 Performance
The 2023 Lexus RX 350 offers the selection of powertrain and drivetrain according to trim.
Standard is the turbocharged four-cylinder engine for the production of up to 275 hp and 317 lb.-ft. of torque generated. These values apparent with front- and all-wheel drive (AWD) equipment. Estimated fuel efficiency is convened in 22 mpg secured within Chicagoland and 29 mpg with traveling highways.
In contrast, the Lexus RX 350h AWD lends a 2.5L four-cylinder engine mated to the Lexus Hybrid Electric Drive. Delivered are performance fixtures of 246 hp and 233 lb.-ft. of torque to enjoy. Here, fuel-efficiency ratings comprise 37 mpg upon Arlington Heights' streets and 34 mpg in highway accrual.
Top track speed shared to each RX 350 specimen is 124 mph in extending excitement along the way.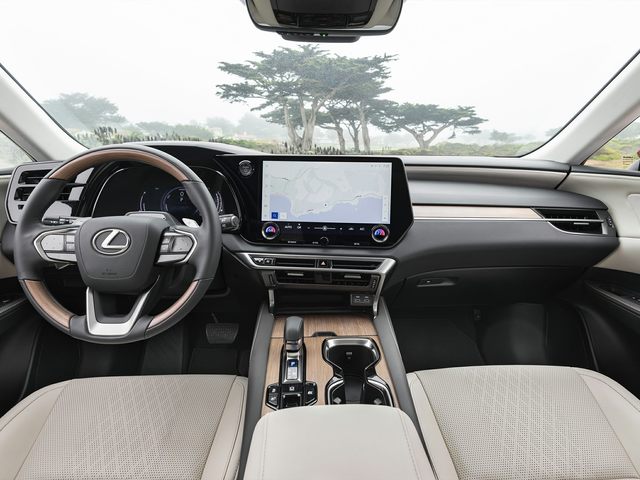 Interior Space
The interior space is highlighted by a driver-centric cockpit for total command. With features and functions positioned where the Arlington Heights driver would expect, nothing is out-of-reach or complicated.
Expansive is the centralized touchscreen display angled toward the bolstered driver's seat. Offering split-screen efficiency, you may organize connected smartphone applications alongside the navigation panel. Driver's instrument cluster is digitized as is the rearview mirror, while the steering wheel emits a handsome look.
Center console offers a minimalistic design and either wood-grain accents or a metallic aesthetic. With the leathered armrest, redesigned is the gear shifter almost diminutive in proportion.
To the rear seats are ventilated leather-trimmed surfaces where coloring matches door armrests. And Mark Levinson® Pure-Play Surround Sound audio speakers are strategically positioned throughout the space.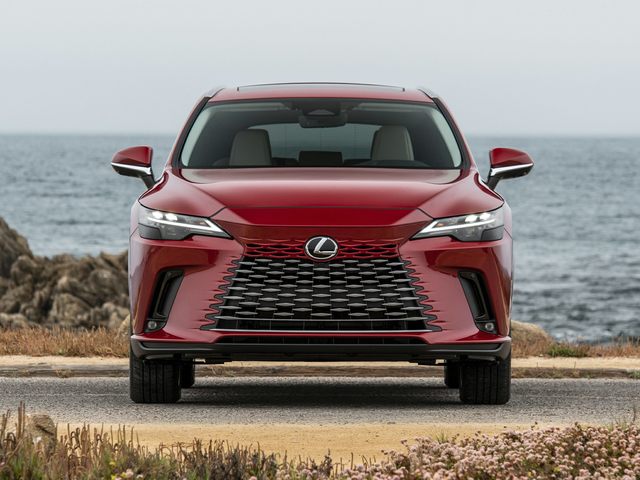 Technology
Ready is a panoply of technological essentials to the 2023 Lexus RX 350.
Given the requirement of convenience, the embedded Lexus Interface allows for hands-free access across the driving experience. Wireless is Apple CarPlay® and Android Auto™ integration with either Siri® or Google handling your verbal requests - respectively.
Driver's head-up display screens important performance details for less distraction. And the panoramic view monitor function lent to the touchscreen display offers a complete vista of surrounding areas and proximities.
Safety
With every passing model year, safety and driver-assistance offer much more in functions and solutions to daily circumstances while driving. In this, the 2023 Lexus RX 350 enjoys the proprietary Lexus Safety System+ 3.0 suite.
As the most comprehensive safety system ever implemented by the brand, there's a wealth of driver-assistance features both active and passive. So, with a pedestrian or cyclist detected or crossing an intersection, steering assistance is leveraged accordingly.
Other details involve lane-tracing assistance for being properly centered, road-sign detection for such information displayed and use of radar for cruise-control efficiency.
In all, the 2023 Lexus RX 350 outshines competitors throughout Greater Chicago -- Lexus quality intact.
Contact Lexus of Arlington Today to Learn More
If you're in the market for an SUV and you think the new 2023 Lexus RX 350 sounds like the new model for you, contact the sales teams team at Lexus of Arlington. We'd love the opportunity to tell you more about everything our new Lexus dealership has to offer.
We have a new inventory complete with popular Lexus models like the new Lexus RX 350 and more. Don't hesitate to give us a call today and ask for a test drive. We'll schedule a convenient time for you to come in and learn more about this great new model.